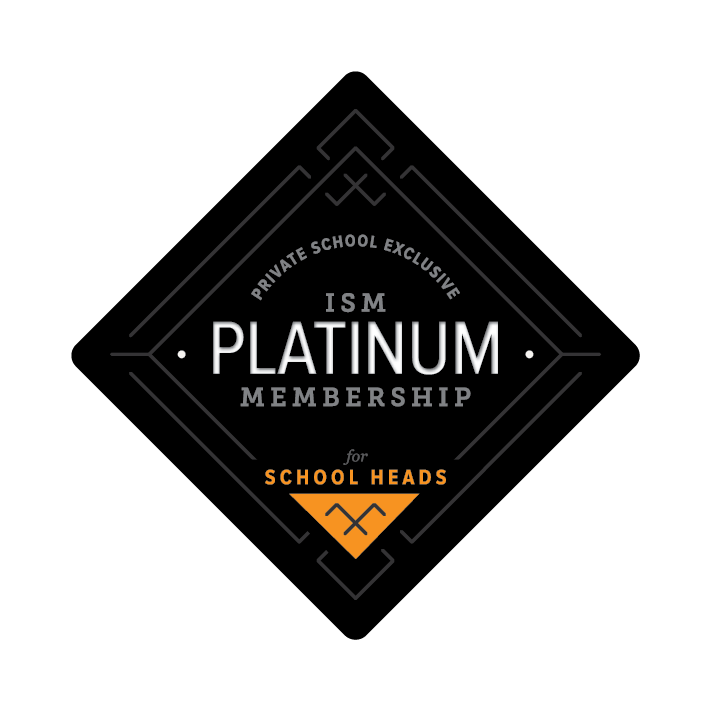 An Exclusive Advisory Board for School Heads

Transformative Learning

Executive Mentoring

A Leadership Network of Peers
School Heads experience numerous challenges every day.
These obstacles impact your well-being, often leading to isolation.
The role of the School Head is often 24/7
You are facing the stresses of a recession and social unrest
You want to deliver your mission with excellence
You want to stay agile in a changing market
You are expected to lead with confidence, even if you are sometimes unsure
You can feel alone in your struggles
Your school's success is inextricably tied to your health and well-being.
ISM Research finds the Head's well-being influences the school's performance, including:
These are central constructs that enhance the student experience and bring families back year after year.
Imagine if you had an Advisory Board that supported you every step of the way.
You don't have to face the challenges of being a Head alone. In order to support your own well-being, you must have access to:

Extensive, Position-Specific Research

A Mentor You Can Trust With Your Tough Questions

An advisory board you can turn to in order to work through your challenges
ISM's Platinum Membership is designed to benefit you, the performance of those around you, and the success of your school.

Transformative Monthly Learning Sessions
---

Topic-Driven Presentations
foundational strategies for long-term growth
Once a month, you will meet with the Advisory Board to explore a new leadership issue. You'll receive research-backed guidance from ISM and experts in various disciplines and backgrounds.
➔ Learn from ISM Consultants and industry experts

➔ Gain new strategies and tactics

➔ Understand the latest trends impacting schools today
Affordability and tuition level doesn't protect you during a recession. Your school's reputation and value proposition will guide your future. Learn our proven strategies for establishing your school as the most reputable in your area, along with revenue generating strategies to keep you thriving even in the most difficult of times.
Learn the six core elements of building a healthy relationship with your Board. Plus, get access to a Trustee dashboard that you can use at Board meetings to present succinct, easy-to-read performance indicators.
Stop relying on fundraising to fix the budget. Go from having a "gap" to operating at a surplus with fundraising and budgeting strategies to increase hard income coverage.
Your reputation and perceived image of excellence are what attracts families to your school. Learn how to differentiate your school from your competitors so that you are the clear choice for your mission-appropriate families.
We will give you the strategies to keep annual re-enrollment above 95%, thus creating an atmosphere of desirability and demand.
A healthy faculty culture leads to sustained, excellent performance from students, increasing both student and parent satisfaction.
Explore how the right professional growth and evaluation program helps you identify the teachers who are "difference-makers" in the lives of students and how to part with those who are not.
It is natural to want to support a "winner," and one of the clearest demonstrations of being a winner is the high level of philanthropic support a school receives for its various fundraising efforts.
---

Peer Group Solutions
A Mastermind of Fellow Heads to Rely On
Only fellow Heads recognize the challenges and triumphs of your unique role. Ask for advice, provide feedback, and engage with peers.
➔ Get feedback from non-competing Heads who understand your position

➔ Find out what's working for others

➔ Brainstorm ideas to help move your school forward

Executive Mentoring
---

Personalized Attention
One-on-one guidance
Get advice and insight from your ISM Executive Mentor with a monthly one-on-one support session to dive deeper into your challenges and opportunities. Ask questions about your specific issues, and get tailored advice so you can move forward with confidence.
➔ Receive individualized, personalized guidance

➔ Turn to an expert to help solve your challenges

➔ Rely on an independent ISM Consultant for unbiased advice and support
+


You Receive All The Benefits of ISM's Gold Membership to Support Your Team

Free webinars every Wednesday

Ideas & Perspectives for your entire school

All research from ISM

Savings on events and consulting services

Tools and assessments to ensure long-term viability

Exclusive member community
Rely on ISM's 45+ years of research to support your ongoing growth and leadership as a School Head. Your school's success depends on it.
Contact us to learn more.