Remove the Guesswork
The next 90 days are critical as schools prepare their campuses for reopening.
Sift through the uncertainty and the overload of available information. ISM and AUXS bring you medical and facilities experts to help you create a step-by-step reopening and repopulation plan for the next 90 days. This program gives you the tools and resources to make informed decisions to successfully protect your school community.

Strategies 
Optimize the structure and focus of your Reopening Task Force, make reopening decisions, and mitigate risk for your school.

Expert-Led Approaches 
Learn from subject matter experts in the areas of health, safety, operations, logistics, safety and school management.

Flexibility & Focus 
Navigate uncertainties and mitigate immediate challenges by using a phased approach for problem-solving.
Comprehensive Training for Your Entire School
To successfully reopen and re-populate your campus, it is critical that your entire team works nimbly together. When your school purchases this program, all your leaders can participate in weekly instructional presentations, tune in for pandemic briefings, and receive actionable templates to help guide their decisions. You'll also be able to access your exclusive 'on-demand' channel so you can revisit previously aired videos.
Pricing

Stage 2
When it comes to planning for fall 2020, there are 3 phases: Plan, Refine, Launch. As we enter the Refine stage of the plan, we have lowered program pricing.


Optimize the Efforts of Your Reopening Task Force
Every school must create a Reopening Task Force to make decisions and handle operations related to reopening. The Reopening Task Force must develop a plan for reopening, implement that plan, and maintain and revise the plan as needed.
This program helps you:
Identify who should be on your Reopening Task Force and their key responsibilities
Create an executable project management approach to campus re-population
Track your progress so you know what to do next
Support and train your staff and faculty on new approaches to make your reopening efforts as streamlined as possible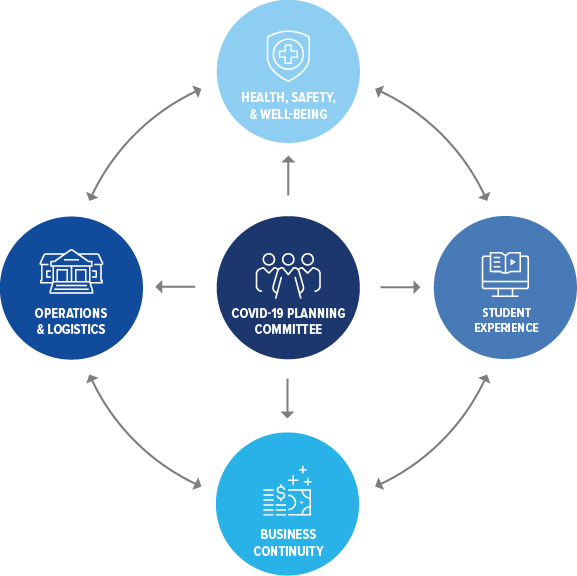 ➔ Creating a Reopening Task Force

➔ Health, Safety & Wellbeing

➔ Operations & Logistics

Be More Prepared, Even Through Uncertainty
This program helps leaders become more prepared in three specific focus areas: 1) Your Reopening Task Force, 2) Health, Safety & Wellbeing of your school community, and 3) Your School's Operations & Logistics.
Here's just a few ways our team of medical and facilities experts will help you become more prepared over the next 90 days:
Learn how to implement screening and testing, personal protection, and protective measures
Determine what supplies and equipment are actually needed
Establish effective cleaning, sanitizing, and disinfection processes
Learn how to create an efficient food service processes
Create a mission-driven student experience, no matter how you deliver it

The work throughout this series is designed to effectively and efficiently guide independent school leaders through the complexities of reopening planning.
Adrianna Bravo, MD
Your Reopening Plan Will Be a Process, Not an Event
Think about your reopening process as a dimmer switch instead of a light switch. Rather than simply switching all the lights back on and opening, your plan will need intervention, flexibility, and the ability to operate at various levels depending on local, regional, and national impact.

The plan you develop must be flexible. Your school should be ready to operate at different levels and have multiple means of operation for each scenario.
You'll learn how to:
Scale your plan accordingly with recommendations that reflect the changing landscape of the current crisis
Adjust your operations based on the most up-to-date information
Clearly communicate your approach to your school community with confidence