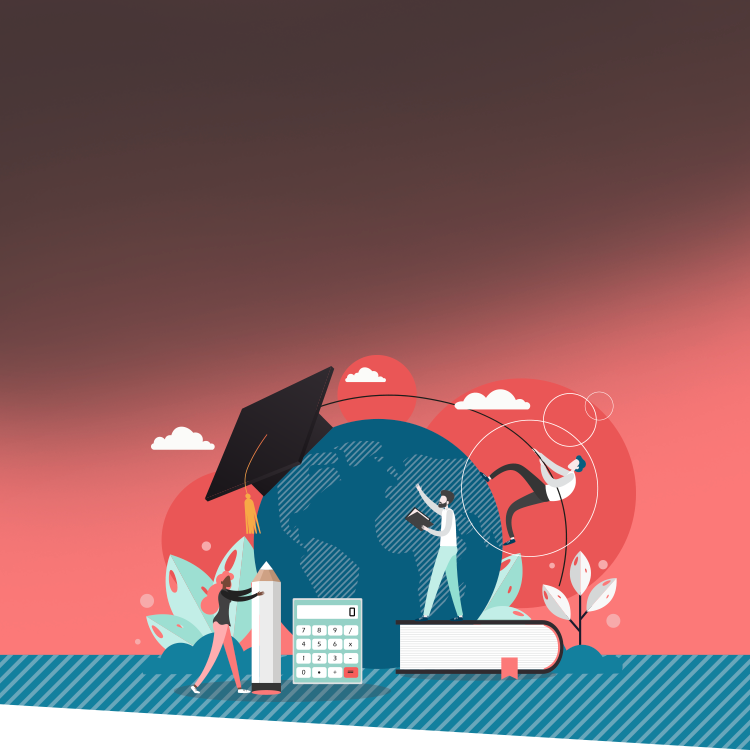 We've learned so many lessons from the 2020–21 school year—both difficult and enlightening. International study programs may have felt the greatest impact from this turbulent time.
As the final term descends toward exams and graduations, there is no better opportunity for an honest look inward to put those lessons to use: what worked, what didn't, and how can the collective academic community employ best practices for ushering in a thriving international student program.
Family Communication
Many parts of the world still covet an American education. Whether you are addressing returning students or prospective ones, encourage families to send their children for in-person learning next year.
Set up weekly conversations with international families in ways best for them: consider time zone issues and platform selections, and be prepared to answer parents' most pressing questions about fall campus life.
If needed, expand your international program staffing to serve as a complete resource for families. Meeting their needs and addressing concerns with knowledge and care will foster positive relationships and cement your school's global reputation.
Change for the Better
Asynchronous Lessons: If your faculty implemented classroom recording this year, they will tell you it has been a game-changer—especially for international students. Remote learners dealing with lack of focus, in-person and remote students struggling to decipher words beneath a face covering, and any students with degrees of learning challenges reaped the benefits of reviewing recorded classes in their own time.
This pandemic-inspired innovation is welcome, with longevity well beyond COVID-19 and distance learning.
Student Connections: Keeping a closer eye on international students' well-being, including mental health status, has taken on new importance this year—with excellent results. Parents not only feel more confident their children are being cared for holistically, but the students also feel safer and more supported.
Proactive Steps for Fall
Successful planning for September includes taking the reins on two important fronts: health care and recruitment.
Insurance Quagmire
Policy Knowledge
The U.S. healthcare system's complexities are a source of stress for parents and students from the international community. Help stem potential confusion during a medical crisis by becoming educated about each student's insurance plan at the outset. Learn which plans are accepted by various local providers and understand the plans' COVID-19 coverage policies. International directors may need additional resources and guidance—and school administrators need to be ready. Be prepared to seek outside advice when indicated.
Mental Health
Adolescent mental health crises have soared this year. Some carriers include mental health resources in their plans, others do not. Many campuses have counselors onsite for in-person sessions and remote services if needed. Get ahead of the situation by ensuring your school's preparedness to handle a potentially larger-than-average caseload—this may require supplemental training and increased staffing.
Carrier Choices
Agent-based: International student placement agents and counselors may offer health insurance—but that arrangement comes with caveats. First, the agent will receive a commission for upselling to the family. Second, while the agent files the plan paperwork, the school becomes the de facto manager. If a health issue arises and there are questions regarding coverage, the agent is not there to help—the program director and school nurse will make decisions to ensure the child receives appropriate care.
School-based: International school programs can manage insurance plans for their students, and do so solely with the children's well-being at heart. Insurance plans managed through academic institutions are more transparent as commissions are not at play. Schools encourage their families to use the service.
(ISM offers an insurance program to schools, with single carrier options that are simple to use and understand. Email insurance@isminc.com for more information.)
---

Ask questions related to this article or other topics you've encountered lately.
Visit our Community and start posting.
---
Digital Recruitment
Recruitment in the COVID age has taken on new importance. Many families are moving away from agencies and looking to schools directly—and digital communications across all platforms demand more attention, analysis, and investment.
Website Review: Work with your communications department to review—and perhaps redesign—your school's website.
Design Basics: A private school website should be viewed as a recruitment and admission tool. Take a critical look at your website:
Are the graphics distracting?
Is there too much to read?
Can the user find the information they need quickly?
Does the site display clearly on a mobile device?
Upgrading to a clean design with a simple call-to-action will give the site the facelift it needs.
Testimonials: Students and alumni are the best ambassadors for your school. Testimonials about their academic and career experiences will prove persuasive and effective with prospective families. Be sure the stories and photos are up-to-date, and rotate them to keep the page dynamic.
Marketing Investment: Schools need to reinvest in self-promotion. While communications departments typically fall prey to annual budget cuts, changes in recruitment strategies require school business managers and CFOs to increase the communications line item moving forward.
Evaluation: Working with your admission team, take time to review current marketing tactics—and analyze them from the vantage point of parents and students. Focus on improvements and modernization across all digital platforms. Be bold! Highlight unique programming and flex those bragging rights.
College Connection: With interest in American colleges still going strong, secondary schools have a natural advantage in the foreign student market. Be one of the first to assert yourself within the international recruitment world. Schools close to colleges and universities can capitalize on that built-in resource as well. Develop relationships with counselors, international student program managers, admissions officers, and boarding school student advisors to collaborate on joint programming. Tout those connections when speaking with prospective parents and students.
Administrative calendars are stretched to the limit these days and adding more tasks can seem overwhelming. Try to turn that thinking around. Making time for a top-to-bottom review will yield great dividends, helping to ensure brighter futures—and higher enrollments—ahead.