Dealing with a disaster, natural or otherwise, can be some of the most difficult work you do as a school administrator. You must enact a timely response, working quickly to provide emotional support as needed, establishing a plan to move forward, and keeping open lines of communication with students, parents, faculty, and staff. Below are suggestions for how your private-independent school can navigate the disaster recovery process, as well as administrative actions and position-specific duties you may want to consider. We hope that you are able to use this advice to get your school up and running as soon as possible, providing a safe haven for your students and a positive place for your community.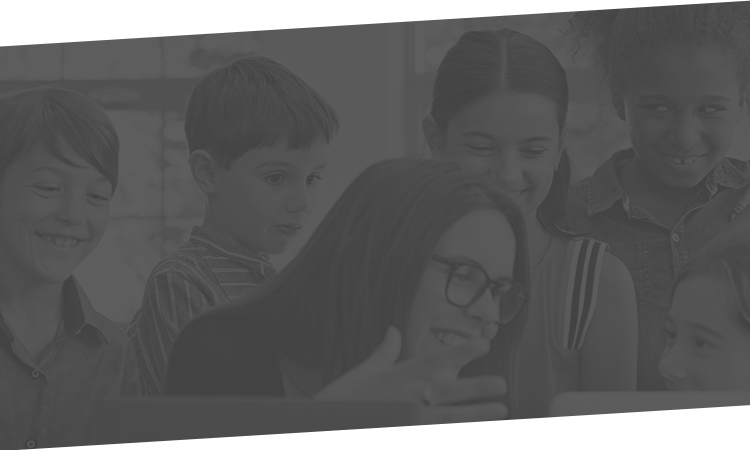 Featured Publications
Take an in-depth look at a particular subject through ISM's publications. You'll find ISM research, theory, and practices carefully outlined to support you in implementing recommended strategies within your school.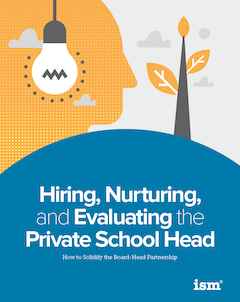 Hiring, Nurturing, and Evaluating the Private School Head: How to Solidify the Board-Head Partnership
Boards can—and should—have excellent relationships with their Heads, and this book can help you solidify those relationships.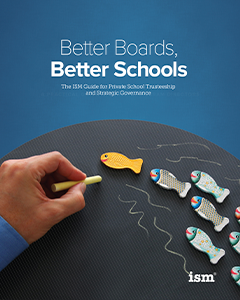 Better Boards, Better Schools
Serving as a Trustee is a privilege that carries a substantial responsibility. Learn how to lead your school with a mission-driven, student-centered approach based on 45 years of ISM research and experience working with private school Boards.  
Better Boards, Better Schools is your guide to ensuring your actions as a Trustee help fulfill your school's mission. Empower the strategic functions of your Board so your school thrives today and in the years to come.
The ISM Guide for Private School Trusteeship and Strategic Governance
Download your first free chapter here:
A COVID-19 Update: ISM Books
Due to COVID-19 and circumstances beyond our control, book shipments will be delayed from our home office. We apologize for the inconvenience. Thank you for your patience during this time.

For more information, please visit our COVID-19 resources page.