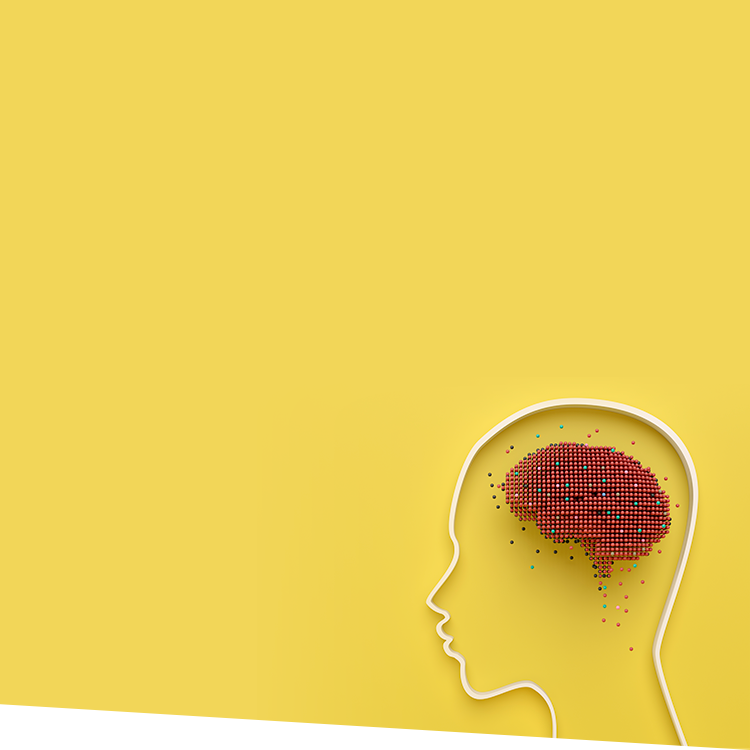 School Health and Wellness//
The pandemic cast a spotlight on the growing challenge of mental health issues among young people. One study of teens aged 13–18 showed that, from 2019 to 2020, anxiety increased 93.6%, depression 83.9%, substance abuse disorders 62.7%, and incidents of self-harm a shocking 333.93%.
To compound the challenge, there is a shortage of therapists to accommodate the growing need for mental health support—especially in our school. The Substance Abuse and Mental Health Services Association (SAMHSA) estimates we are about 1.8 million therapists short of what's needed to effectively treat serious mental illness and substance use disorders. As the need for mental health continues to grow, parents and students may turn to their teachers and other non-medical staff for guidance.
As a school leader, here's what you should know about mental health.
We must deal with mental health issues just like physical health conditions, with no stigma or embarrassment on the part of the student, teacher, or staff member.
Prevention and early intervention provide the best defense against the development of serious consequences.
The sensitivity of mental health conditions, combined with fear of doing or saying the wrong thing, are roadblocks to effective and timely intervention.
Here are some tools to help your teachers and other non-medical school staff be more effective and compassionate advocates for your students.
Analyze Your Emotions and Responses
Recognizing your emotions, physical reactions to stress and trauma, and responses to others' comments will affect your outreach to students. Keep in mind "the airplane rule"—put your own oxygen mask on first before you help someone else.
Practice compassionate listening. This requires you to remain silent and pay attention to not only the words you hear, but also to facial expressions, body language, and tone of voice—noticing even the silences between words.
Identify emotions you frequently experience, and think about how you react physically.
When stressed, do you tense your neck and shoulders?
When angry, is that shown in your facial expression?
When overwhelmed, is it reflected in your posture?
Now, think about how you would react if you received similar responses to a request for help. In place of these, what reactions would be helpful to you?
Importance of Self-Care
It's hard to help someone in crisis if you are burdened with strong negative emotions yourself. Consider ways to practice self-care and relieve stress.
Take a daily walk
Establish an exercise routine
Practice mindful meditation
Plan a weekend trip out of town
Relax with a warm bath
Read a good book
Self-care is whatever you can plan to do regularly to clear your mind and unburden your emotions. Your self-care goals must be practical and manageable—things you can easily fit into your schedule.
---

Tune in to ask questions related to this Source article or other topics you've encountered lately.
Visit our NEW Community and start posting.
---
Commit to Being a Good Listener
Effective listening is essential when addressing mental health issues. Here are some conversation do's and don'ts.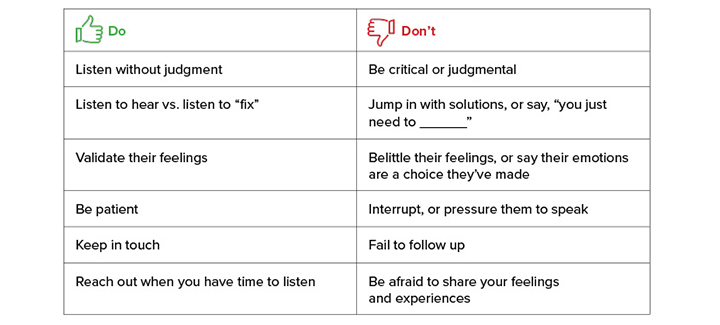 Make Deeper Connections With Students
Among students' roadblocks to seeking help is not knowing whether they can trust the adult, or whether they'll get the responses listed under "Don'ts" above. Always remember, they may come to you because they feel their parents or others close to them aren't listening and are not able to take time for them. Use these tools to break down these roadblocks.
Maintain eye contact.
Be fully present: Turn off your phone and put the "do not disturb" sign on your door.
Ensure good nonverbal feedback: Be aware of your body language and facial expressions.
Strive for compassion in this continuum.
Sympathy = "I am sorry you are in pain." (distant)
Empathy = "I can imagine what this pain feels like." (shared)
Compassion = "You are suffering and I will do what I can to help." (connected and action-oriented)
Make a "classroom check-in" a regular part of your students' day. This is a moment for mindfulness, for your students to collect themselves, relax their brains, and for them to know you care about them as individuals. Also, this empowers students to acknowledge their emotions and creates a place where they can feel safe to share their emotions. Here are a few ideas to get you started.
"Thumbs Up" or "How Are You Feeling: 1-5": A simple request for everyone to indicate how they are doing, with just a thumbs up or down, or a number ranking. You can follow up by explaining your answer, or asking if anyone wants to share. More important, if you do this every day or several days each week, and you notice a student giving a consistent thumbs down or low number, you can follow up with a personal conversation.
"Who Are You'': Prompt students to think about "who they are"—you may even encourage them to create their "secret identity" as it relates to what they're feeling. This is a creative way to get the students talking and interacting with one another and you, which can also give you a heads up about students who have negative feelings about themselves.
Above all, remember your job is NOT to fix your students' problems for them. It's being present and guiding them to seek help for themselves if they need it. It's presenting facts, not judgment. It's treating them as you would want to be treated—with respect and compassion.
*This content was courtesy of D&G Wellness Consulting.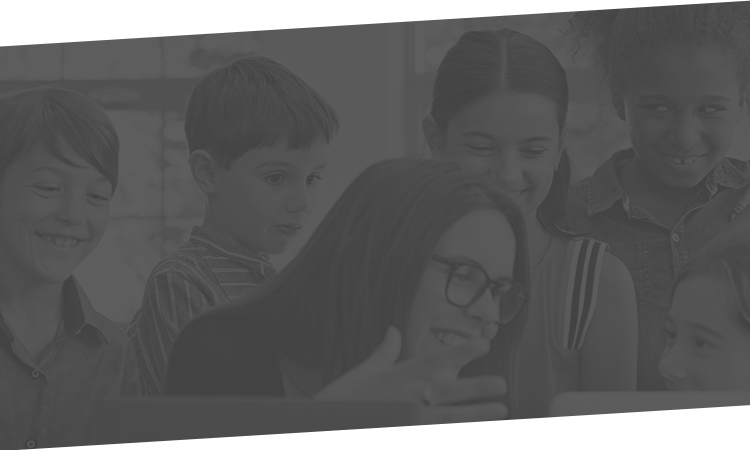 More Events
Student-Centered Scheduling Design

Register